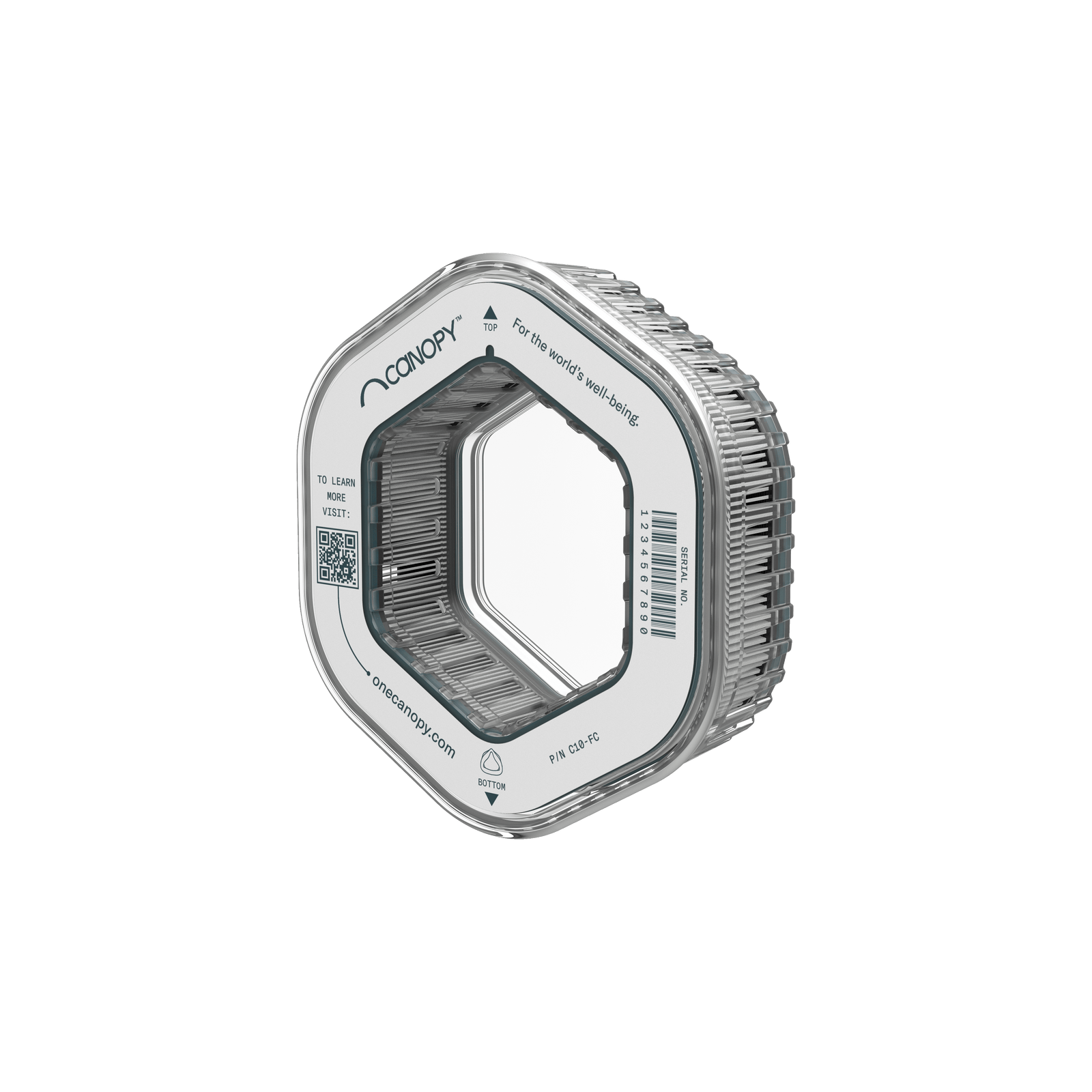 Canopy Replacement Filter
$75
$160.00
Replacement filter for our HHS-award winning, transparent, ASTM F3502-compliant Barrier Face Covering.
Filter Cores tested for 480 hours of use without performance changes.
Click here to view independent test results. 
INCLUDES ONE LONG-LIFE, INTERCHANGEABLE FILTER CORE

HSA/FSA ELIGIBLE

INDUSTRY-LEADING ONE-YEAR LIMITED WARRANTY

INTENDED FOR USE WITH CANOPY HERO ASTM F3502-21 BARRIER FACE COVERING
Overview
Canopy's silicone seal is soft on your skin and snug on your face, guarding you from exposure without leaving a mark. Our injection-molded, easy-to-adjust Hero straps have a headpiece so comfortable you'll forget it's there.
Converting to Canopy also means you'll spend considerably less on PPE while eliminating up to 100 pounds of landfill waste per year. Because Canopy is made from durable, high-performance polymers that are simple to wipe down with common disinfectants, you'll never worry about being without proper protection.
DISCLAIMER: Canopy is not certified by NIOSH or the FDA as a medical device and we cannot recommend Canopy for use in a clinical setting. Canopy complies with ASTM F3502-21 Barrier Face Covering Standards only..
Details
Shipping
US shipping is included with every order. Expedited options available for a nominal fee.
Cleaning
Because Canopy is made from durable, high-performance polymers, you can easily wipe it down with most common disinfectant wipes, isopropyl alcohol, soap and water, bleach, and others. Hero straps and face seal are dishwasher-safe. Do not submerge Filter Core.
The Canopy Ecosystem
We've designed the Canopy family to be a fully modular, interchangeable ecosystem. Our architecture offers organization-wide operability, meeting the broadest range of use-cases and risk profiles.
Specifications
Filtration Efficiency

>97% PARTICULATE FILTRATION EFFICIENCY

Filter Replacement

Interchangeable filter offers easy replacement

Face seal

Two-sizes-fit-all hypoallergenic silicone

Eyewear Compatibility

Accommodates glasses without fogging

Fog-mitigation

Permanent anti-fog coating on front lens

Face Shield Integration

Compatible with most face shields

Weight

Load-balanced 200-250g; feels weightless

Filter life

Tested to 480 hours
Commitments
One crisis should not give rise to another. While we're dedicated to protecting the health of people around the world, it's equally important to us that we take care of the planet we all call home. A commitment to Canopy is a commitment to the well-being of the people and places we love.
Sustainability
Disposable N95s are costly and wasteful. Converting to Canopy means you'll spend considerably less on PPE while eliminating up to 100 pounds of landfill waste per year.
Equal Access
Our forthcoming 501(c)(3) nonprofit will partner with leading NGOs, governments, and public health organizations to distribute Canopy respirators to populations in need, both domestic and abroad.
I love mine!
I couldn't be happier. This is so much more comfortable than the disposable N95s.
Awesome mask
Love my canopy. It's comfy and comforting. I don't doubt the seal or the mask's effectiveness like I do regular n95s. It's big and attracts attention but after a friendly exchange, some people have expressed curiosity about cost and availability. I teach in mine and it's fine for long days. Highly recommended for anyone who wants the best protection and doesn't mind standing out a bit.
This may not be the mask for you, if...
If you don't have strong fingers to assemble the 4 snaps that hold the Face Plate to the Filter (perhaps you have a friend that can do the snaps for you if you can't).
However once it is assembled this is a truly fantastic mask!