Built by an experienced and entrepreneurial team.
Prior to Canopy, Kim led Apollo Global Management's $20B high growth Pension Risk Transfer (PRT) business for its insurance unit, Athene. Kim had P&L accountability and oversight of all key functions.

During her tenure, Kim took the business to number one in the market, writing a record $5.5B of new business in 2020.

Kim structured and closed several landmark transactions, including with GE ($2B) and JCPenney ($3.2B). Kim also sat on the board of the women's Employee Resource Group (ERG) as a Diversity, Equity & Inclusion leader, and as a sponsor of underrepresented talent.

Prior to joining Athene, Kim was one of four founders of $1.2 trillion asset manager Legal and General Group's US PRT business where she served as Head of Distribution since its 2015 market launch. Kim led sales, marketing, client solutions, business strategy and leadership development growing the business to nearly $4 billion in assets and 50 employees within five years. She previously served as Deputy Head of Distribution for Legal & General Investment Management America business where she worked with corporate pension and insurance clients to implement liability-driven investment and fixed income strategies. Her leadership contributed to nearly $50B of asset growth during her tenure.

Prior to Legal & General, Kim started her career at MBIA Asset Management. Her final role was as a Director where she led the development of pension de-risking strategies and insurance solutions for institutional clients. Prior she helped guide MBIA through the financial crisis, then pivot the business to a retirement solutions platform. Pre-financial crisis she led asset/liability risk management for a $30B bespoke lending business.

Kim holds a Bachelor of Business Administration in public accounting and an honors degree from the Pforzheimer Honors College at Pace University where she graduated magna cum laude. She also holds a Master of Business Administration from Marist College.
From 2010-2018, Joe was a founding team member of Google Shopping Actions, the company's expansion into verticalized search for retail. He focused on partnership development and management with the country's largest retailers and fintech providers to implement shared omni-channel distribution strategies in an effort to mitigate Amazon's market dominance. Joe has an uncanny ability to inspire and motivate partners, clients and team members alike with his cutting-edge ideas and approaches to business development implementing change at large institutions.

Joe has structured first-of-their-kind partnership deals between Google and organizations in both the retail and financial services industries, including negotiating agreements impacting more than $1B of Google e-commerce transaction volume.

Joe left Google in 2018 to pursue entrepreneurial endeavors. He is the co-founder of Subject to Change Wine Company, a globally distributed natural winery based in California. He earned a BA with honors from the Gallatin School at NYU in 2010.
Supported by expert partners, advisors, and collaborators
Commercialization Partner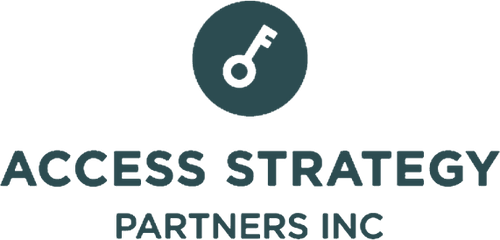 Access Strategy Partners Inc (ASPI) aligns medical device companies with healthcare providers and supply chain organizations to simplify the acquisition of leading-edge technology.

The ASPI team has collectively spent decades building and leading corporate sales and contracting organizations for leading healthcare manufacturers and supply chain organizations, utilizing successful IDN and National Accounts strategic insights and relationships. ASPI brings deep expertise and experience in commercialization, supply chain, contract management & execution, value proposition optimization and well beyond.
ASPI leadership spent many years working for large device manufacturers and supply chain contracting organizations that could take advantage of broad product portfolios, large corporate contracts and other incentives that help drive the sales process. The result is an environment that can inhibit or at least slow innovation...innovation that can benefit patients, clinicians and healthcare providers. ASPI collaborates with companies with new technologies and a strong value equation, to better position them for successful market access by developing a strategy to enable them to become meaningful trading partners.
This is an industry of talented, compassionate people whom ASPI has enjoyed working with and building productive relationships. Our goal is to simplify the acquisition of leading-edge, value-based technology.

ASPI works with a select group of manufacturers, providing knowledgeable key account management representation and related services, to position them for successful market access with key providers and contracting organizations. For providers, this means we bring a portfolio of qualified, relevant suppliers from around the globe.